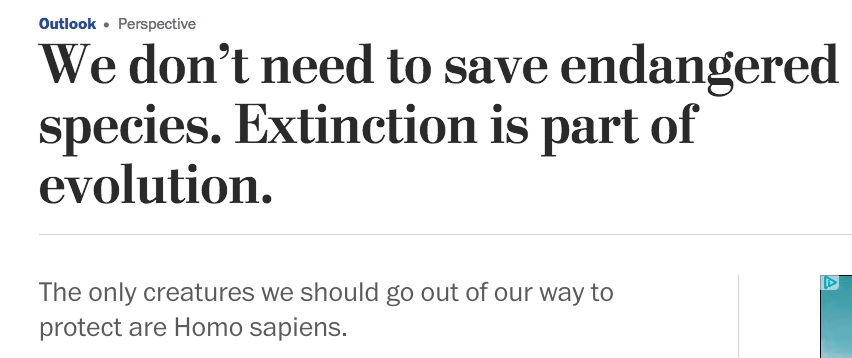 The decisions of Associate Professor R. A. Pyron, to write a perspective piece on extinction and biodiversity, and The Washington Post editors, to publish him, with the headline, "We don't need to save endangered species. Extinction is part of evolution", have produced what I would label, as a rather large failure of science communication.
Geological Time Mass Extinctions ≠ Ignore Present Biodiversity Loss
Nearly 2900 scientists and science allies have, since, signed onto a public letter by Professor Alexandre Antonelli and Dr. Allison Perrigo of Gothenburg University in Sweden. A short version of their letter was published on December 15, 2017 in The Washington Post. If you agree, you can add your name here. I think it's an excellent letter, and I signed it.
Since his opinion piece, "Species die. Get over it.", was published on November 22, 2017, Dr. Pyron has disavowed the headline, and sought to clarify his ACTUAL intentions in writing the article, on his lab. website. While his language is apologetic (great!), I can't see where he specifically apologizes for his science communications failure. Rather, he asks to be judged on his research record. Well, I can check that on google scholar, Web of Science and Scopus, but many of his Washington Post readers will NOT do so.
Apparently, Dr. Pyron failed to comprehend that science writing for the public is substantially different from peer-reviewed journal writing, and that science sits within, not above society. Similar kinds of issues plagued the founding organizers of the March for Science earlier this year, and Nature's dreadful editorial about historical whitewashing and confederate statues, which Ross Andersen soundly drubbed in The Atlantic.
Scientists Really Must Learn About The History of their Field
I have the impression that Dr. Pyron, Nature's editorial team, and the founding organizers of the March for Science, were largely unaware of science and technology studies, and scholarship into the history, sociology and politics of science, until they crashed into the science-policy-politics space. As a veteran of this space (one example linked here) I can only advise that they all take the time to learn and reflect, perhaps beginning by watching the talks from the 2015 conference at the University of Regina, Public Engagement and the Politics of Evidence, organized by Professor Marc Spooner.
Here is Charlene Bearhead talking about student research and Truth and Reconciliation Commission:

Learn about STEM Outreach and Public Science Education Best Practices
I've been a big fan of public science and science communication since I was about 10 years old, when I started writing letters to organizations, and editors about science. Some were even published in magazines, as early as the 1970s.
STEM researchers need to understand that outreach and engagement are inherently interdisciplinary. Science communication and public science are part of the science-policy space, and can sometimes have transdisciplinary aspects. Many fields collide and overlap here.
Since I joined the Biology faculty at York University, my science-policy-politics research, and all of my public science, including participation on NGO boards and government committees, have ALWAYS been interdisciplinary. I've collaborated with, learned from, and/or published with academic colleagues in Agriculture, Horticulture, Forestry, Education, Business, Law, Social Sciences and Humanities, Health and Medicine, Engineering, Fine Arts, and Environmental Studies. I've also been lucky to work with indigenous colleagues. In Canada, this includes colleagues who are First Nations and Inuit. I have also worked with colleagues in the government (all levels: federal, provincial, municipal), for-profit businesses and non-profit organizations.
STEM academics CAN and SHOULD do some kind of outreach and engagement: pick your comfort level. It should be informed by best practices, including advice from journalists, media and Public Relations professionals. In his blog post, The climate change PR disaster, Bob Pickard of Signal Leadership Communication Inc., analyzes the complexity, and various pitfalls associated with communicating about climate change. Ecology and science communication faces a lot of the same challenges.
Increasingly, universities, colleges and scholarly organizations, like the American Association for Advancement of Science, are developing communications training for STEM researchers to be better ambassadors. Faculty, like myself, are incorporating science communication into our undergraduate courses. SciFundChallenge is a non-profit that has run courses on using instagram and twitter for science outreach and engagement. In May 2016, Seneca College launched the 6-week programme that I first discussed developing with colleagues, including writers and journalists, back in 2013: the Science Communication Summer Institute.
It's a year since Margaret Mrozewicz, York University's Faculty of Science's Communications Manager organized the first science communication workshop, which included three x one hour modules. I hope that these will become a regular Faculty of Science fixture. Science Dean Ray Jawardhana enjoyed it so much that he stayed for 2 hours!
If you don't have 6 weeks or even 3 hours, how about one hour, once a term?  It seemed to me that Margaret could split her workshop into one-hour stand-alone modules. She could develop more of them, that could, in future, be swapped in and out. She gave a terrific introduction to social media, with Twitter 101, a sort of "Twitter for the Terrified".
Some things that have stayed with me from a year ago:
In his excellent talk, Liquid Cats, Baby Boomers, and the Basics of Venture-Based Scholarship, Schulich Business School professor, Markus Geisler, pointed out that social media flattens the world of public science and science communication.
Kate Lunau, senior editor of Motherboard in Canada, described the phenomenom of "hype cycles" and inconsequential news being reported, which is nearly as bad as covering fake news and pseudoscience.
I think that Dr. Pyron allowed himself to be caught in a hype cycle. Like many other ecologists, I cover all of his points in my undergraduate and graduate courses, but I am well aware of the implications of making these comments in a public space.
Here is my deck from the 2016 Science Communications Workshop: