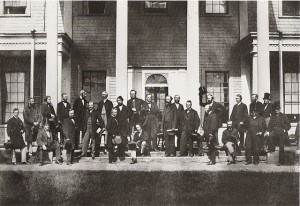 It's 150 years since the Charlottetown Conference of 1864. But, what if the Fathers of Confederation had been the Mothers of Confederation, instead? This is the very cool idea behind the A Bold Vision Conference planned for September 2014 on Prince Edward Island.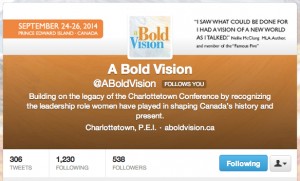 A summer and autumn of celebration is being planned, including this conference, aimed at bringing 23 established and aspiring Canadian women leaders together to share their visions for Canada. The organizing committee used Social Media to crowdsource nominations for their consideration. I certainly had no problem, after I heard about the conference on Twitter, with writing out a list of 10 women whose leadership qualities I admire tremendously and whom I'd like to see head to Charlottetown in September 2014. 
Of course, it's easy to make a list, but sitting down, researching and writing a nomination takes a lot more time; about 90 minutes, each. In the end, I managed to complete three nominations, for Margaret Atwood, Diane Orihel and Sheila Embleton, and I assisted Gabrielle Slowey with brainstorming, drafting and editing her nomination. I was sad that I simply ran out of steam, halfway through a nomination for Professor Sonia Lawrence, Osgoode Hall Law School and head of the its Centre for Feminist Legal Studies (my apologies - at least I have a partial nomination for an award!).
After a nomination is submitted, the organizers contact the nominee, seeking a lot more detailed information. I don't know whether Margaret Atwood has been able to accept the nomination, but both Sheila and Diane did. I really hope that one of my 4 nominees (I'm taking credit for Gabrielle's here) gets selected for the conference. 
For the record, here is the first of the three nominations that I wrote myself. I'll blog the other two on the 15th February and 1st of March. 
Margaret Atwood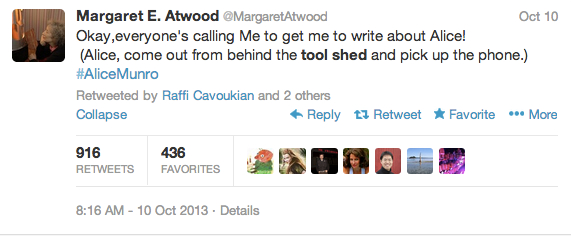 She's a famous author, but how many people know her poetry, or that she's keenly interested in biology and the environment, with a dad and brother who were/are scientists and an ornithologist partner? She's a technological innovator. She's a defender of human rights, which include access to strong public libraries. She's a generous colleague, who celebrated Alice Munro's Nobel prize for literature through Twitter. Margaret Atwood has diverse ideas and visions for all Canadians. She has travelled to all corners of the country. Her lively interactions with her readers and other people, will broaden the Charlottetown conference immensely.
Accomplishments
Margaret Atwood is a Canadian feminist leader and icon. Her accomplishments are too numerous to list here, so I'll highlight a few and you can read her own webpage, her Wikipedia page and a great Guardian profile, for more! The CBC Digital Archives have crowned her the Queen of CanLit. She has published numerous novels and loads of poetry.
Margaret Atwood has been the president of PEN Canada, which advocates on behalf of writers around the world, who are being persecuted, for, well, writing.
She is active in promoting evidence-based, environmental management. Her views are informed, no doubt, by her biologist father and brother (Cat's Eye has some semi-autobiographical elements). For example, in the early 1990s, she wrote the introduction to a Green Living Guide, well before current awareness of climate change impacts and both the accompanying greenwashing and denialism got going.
How will she contribute to a collaborative vision for Canada?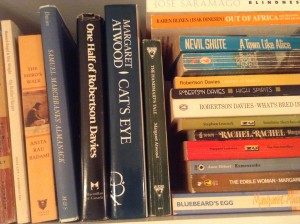 I first came across Margaret Atwood when I read "The Edible Woman" (1969), soon after emigrating to Canada as a teenager, in 1974. I was interested in reading Canadian literature, since, having grown up in the UK, I hadn't come across much. So, I set myself a reading list that included Robertson Davies, Morley Callaghan, Margaret Laurence etc. I've followed Margaret Atwood since the mid-1970s, and have continued to read her novels. As an ecologist with a strong interest in the environment, I applaud her support of sustainability, from a time before it was trendy. Additionally, she has a keen understanding of and ability to champion social justice issues. She will bring all of this to the table, along with a wise, witty and incisive voice. I attended a reading from Cat's Eye, that she gave in Oxford in the mid-1980s, at Blackwell's Bookstore, and it was clear, that while she loves to interact with her fans, she also doesn't suffer fools gladly. This latter characteristic, along with her clarity of thought, and the ability to cut through fuzzy stuff, will be hugely important in ensuring the success of an endeavour such as this.
Dawn Bazely