Project Page -- Check Availability of Dates -- Sign Up Form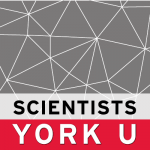 Many STEM researchers and teachers have found found Twitter to be an efficient and effective way of communicating about their work with each other, and a broader audience.
In addition to individuals tweeting, the institutional account is also a thing. But, as many institutions discover, creating and managing an effective and authentic social media presence, is not a task to be undertaken lightly. Many institutional accounts (you know who you are -- I tweet questions and comments at you, and get only radio silence) fail at the "social" part of social media. But, some institutions, including the Bank of England have found ways to engage meaningfully and seriously on Twitter.
In the last few years, a kind of Twitter account hybrid has emerged, whereby one Twitter account functions as a platform for particular group of people. Often, one person will take over an account for a week. Examples include @RealScientists, @BioTweeps and @AstroTweeps.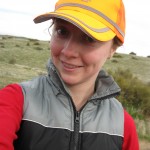 The @YorkuScientists account is inspired by these hybrid platforms, and features professors, students, staff, and alumni who do STEM work. We launched on 1st January 2016 with John Dupuis, Steacie Science and Engineering Library's veteran Social Media guy and blogger. Our YorkU central media office supported the project by providing us with a gorgeous overlay for our weekly @YorkuScientists tweep.
Over 8 weeks, @YorkuScientists have tweeted about astronomy and observatories, what it's like to work at a big museum, controversies in open access publishing, science policy, fieldwork, science pedagogy, programmes and courses available to undergraduate students and, last but not least, Charles Darwin Day.
The evolution of a learning platform for science communication and outreach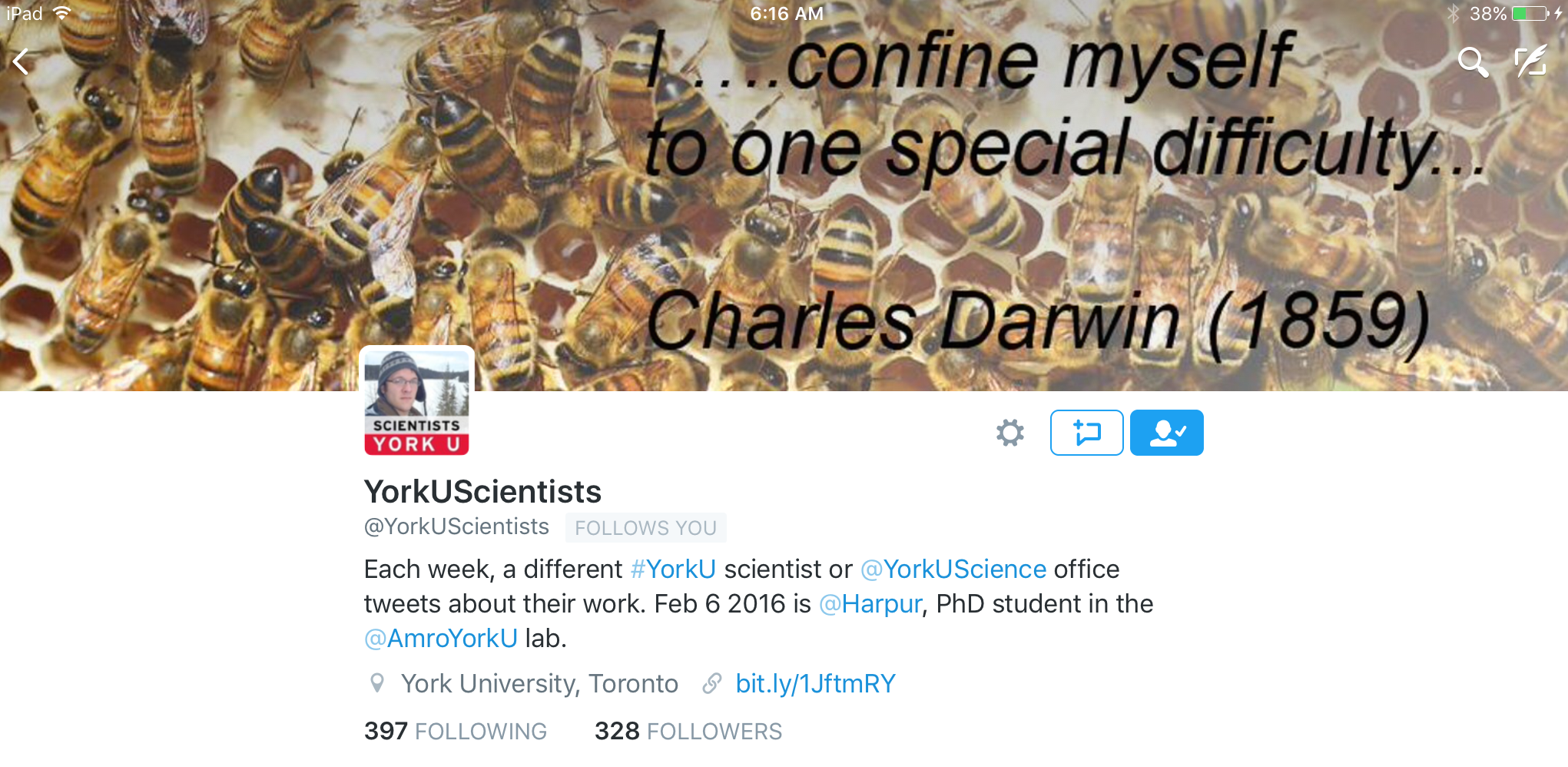 I have been nagging persuading people and offices that tweet, to sign up, and, give it a try. So far, everyone reports having fun, and the fact that the number of followers has increased greatly, is, in my view, evidence of effective engagement.
At this point, I can also, see the potential of this account as a platform for providing training, and experience for members of the YorkU STEM community who might like to try Twitter, but are reluctant about making a big commitment, and concerned about the time-sink of hitting a steep learning curve. The tweet Time Line provides excellent examples of good practice in science outreach and interaction with Twitter, for a new-ish or less experienced user.
With 8 weeks of the project behind us, we would like to book the rest of the weeks in 2016. I encourage interested folk to sign up with our google docs form, after checking the availability of weeks. So far, we have booked about 4 months of 2016, so there are still plenty of slots.
It helps to have a focus for your week of tweeting: being at a conference, or in the field, or teaching a course. Julie M. Tomé, a YorkU Astronomy alum, tweeted about her work in Science Education at the Royal Ontario Museum.
March is National Engineering Month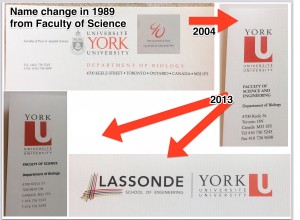 We have taken the theme idea @YorkuScientists one step further. For March 2016, members of the Lassonde School of Engineering, founded in 2013, when York University's Faculty of Science and Engineering split, will be tweeting from the @YorkuScientists platform.
This split of the Science and Engineering faculty came after 9 years. When I arrived as a professor at York University, in 1990, I joined the Faculty of Pure and Applied Science -- which had come into being in 1989, when the original Faculty of Science changed its name!
While York University now has a separate engineering school, we continue to share many interests, including advocating for STEM (Science, Technology, Engineering and Mathematics) to be more accessible to women, people of colour and other minorities. This is the 2nd project in which John Dupuis and I have worked closely with Assistant Dean for Inclusivity and Diversity, Marisa Sterling, P.Eng. The first was Ada Lovelace Day, last October.
For National Engineering Month, we welcome our York University engineers to @YorkuScientists.