Talking Art at the Toronto-York Subway Extension Opening
The opening day celebrations for the Toronto-York Spadina Line subway extension were not only a chance to take in exciting new architecture, but also live music and art. The City of Vaughan's Dreamweaver 150 interactive art installation was at the Vaughan Metro Centre station.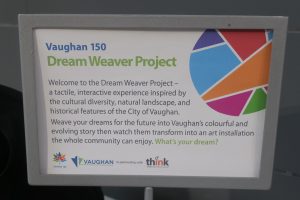 I enjoy public art, and got to meet the Dream Weaver 150 project facilitators, Simon and Aviva (below). Simone is an alum of York University's Faculty of Education. She was in the first class of students at the Barrie-based First Nation, Métis and Inuit Infusion Teacher Education program. Our conversation turned to how people, including me, often ask if the Dream Weaver hoops, to which participants tie ribbon, wool and string, are a kind of dreamcatcher. Aviva explained, that while they may be somewhat reminiscent of dreamcatchers, the intention of the hoops is quite different, as they look towards the future, while recalling the past: they are not about protection, and they aren't made of willow, feathers, leather and sinew.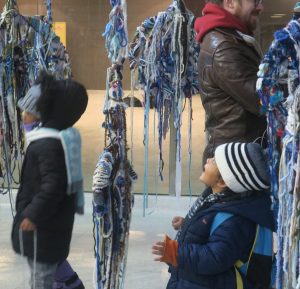 I learned that some visitors to this mobile art project, who did not identify as First Nations, would also comment that, in their view, the project appropriates First Nations culture. Naturally, I inquired as to how First Nations visitors have responded to the exhibit. Simone explained that both First Nations and Métis visitor comments and feedback have been uniformly positive. While recognizing that the dreamweaver hoops recall the hoops of the dreamcatchers with which the public may be familiar,  First Nations and Métis visitors approved of their distinctiveness and fundamental differences.
The Truth and Reconciliation Commission's Calls to Action
Aviva, Simone, and I then turned to a discussion of whether such conversations with concerned non-indigenous people could pave the way for talking about the Calls to Action of the Truth and Reconciliation Commission. We all agreed that Canada is at a crucial point where we must provide authentic platforms for First Nations and Inuit to tell their stories. At the same time, we must also be active in helping to amplify their voices. I enjoy getting my daily reminder about the colonial history of Canada, in the form of this sticker on the door to Central Square (below).
The Mackenzie Valley Pipeline Inquiry (1974-77)
Canada's First Nations and Inuit have been on my mind since I first learned about their ongoing land claims, at my Mississauga high school, in the 1970s. Karmel and Hugh McCullum, authors of This Land is not for Sale (1975), came to speak at my high school. I started following the Berger Commission and the Mackenzie Valley Pipeline Inquiry (1974-77), and I attended the Toronto hearings. I also made a written submission in support of the Dene land claims.
Forty years later, I still think about an immigrant, like me, can support Canada's Indigenous people in meaningful ways. I hope that all Canadians will read the Truth and Reconciliation Commission's Calls to Action, and become better educated about the dark history of the residential school system, and also about the continuing systemic bias, and injustice, that Indigenous peoples experience in a multitude of ways.
Discussing Indigenous Activism at Algoma Reads
Every Canadian can, and should, take individual action. This year, Professor Alice Ridout (right) of the English Department at Algoma University, organized Algoma Reads. In this public lecture series, the authors of CBC's Canada Reads book nominations visited Sault St. Marie, to talk about their books with students, and the local community.
When Sheila Watt-Cloutier could not attend in person, to talk about her book, The Right to be Cold, Alice asked me to talk about my more recent arctic research, and my public outreach about Canada's warming arctic, as well as how reading The Right to be Cold influenced me. I felt honoured to be invited, but my first thought was to think about whether an Inuk colleague might be able to speak, instead of me. However, it was rather a last minute invitation, and Alice assured me that an indigenous perspective would be represented. Candace Day Neveau, a young, Anishnaabe woman, and member of the Bawating Water Protectors, would be reflecting on her activism. Candace was one of the leaders of the group of young First Nations activists who built the tepee on Parliament Hill in June and July 2017, and she spoke with Prime Minister Justin Trudeau.
What can you and I do?
Public events, such as Algoma Reads, are one means of creating space for indigenous voices to be heard, but there are many other ways to do this. I decided that, this year, my posts for the University of Reading's Advent Botany series would include First Nations and Inuit perspectives. My colleagues, Alastair Culham and Jonathan Mitchley, who founded the series back in 2014, agreed, and I wrote about the importance of cranberries for First Nations. I also wrote about plants not usually associated with Christmas, in a post about the qulliq, the Inuktitut name for the stone lamp that Inuit use as a source of light and heat during the long winter.
As with shifting systemic barriers to equity, diversity and inclusivity in STEM, the first step for non-Indigenous Canadians, when it comes to dismantling the barriers that Canada's indigenous peoples have long faced, involves learning, reflecting, having conversations, and taking both individual and collective action. For one thing, we should all support the campaign to recognize Canada's Indigenous peoples as founding nations, along with the British and French.
Please watch this awesome video that the Government of the Northwest Territories made in 1992, before Nunavut was formed in 1999. that I discovered while researching my Advent Botany post about arctic cotton, willow and lamp moss: