I have been on the internet since before most current York U undergraduates were born. You will find me active on various websites and social media sites, such as LinkedIn, and even on Twitter.
But, I have never had my own website. Things have changed because, let's face it, if we don't actively take care of our online reputation, these days, the chances are that someone else is making it worse - either actively or passively. I have been dismayed, in recent years, that the Faculty of Science & Engineering and my own Biology Department have been unable to create and run functional, attractive websites that are regularly updated and refreshed. Yet, somehow, we managed to do this at the organized research unit, IRIS on an annual budget of $500 to $3,000.
A year ago, I pointed out that the Biology Department Website had been hacked: check out the charming screen cap below about buying viagara from Biology at YorkU! Nothing was done about it for months. At the same time, I also found out that there was no way to advertise lectures, upcoming events and talks on the Faculty and Department website. I had been emailing announcements into a black hole in cyberspace. YIKES! No wonder York's internet reputation is abysmal and websites are littered with nasty comments about the university. What's more, I often get these complaints made directly to my face.
I doubt that we are in line any time soon to win an award for our websites.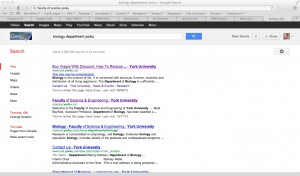 So, having used WordPress at IRIS for years, I took matters into my own hands and presto - my own lab. website, to make information about what we are doing available, and support the wonderful achievements of the worthy folk who have laboured here through the years.
Dawn Bazely