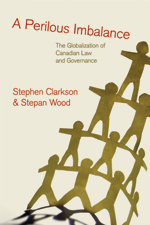 In 2010, IRIS launched a book by my colleague in Osgoode Hall Law School, Professor Stepan Wood. It's called a Perilous Imbalance. I introduced the authors, Stepan and Stephen Clarkson, a political science professor at the University of Toronto, so I had to read the book.
After reading the book, I came to realize that it's one that I would recommend for all scientists. Its call number in the YorkU library system at Scott library is: KZ 1268 C53 2010. It's in the Toronto Public Library system, too.
Here's my little intro speech: 
"Three and a half years ago, I would rather have died than describe myself as having any kind of expertise in sustainability. This was despite that fact that I was teaching Biology graduate students about the fundamentals that underpin the concept of sustainability, for example, ecological footprint analysis and the precautionary principle as it applies to ecosystem management. 
So why this discomfort? Well, it's simply that I'm the product of an academic system which creates very highly specialized researchers, who are experts in very narrowly defined areas. Or, to put it another way, we know a lot about a little, and maybe cannot see the forest for the trees!
Over the last few years I have learned to overcome the inherent prejudice that I, along with most of my fellow academics, bring to the sustainability research space. The challenge of reconciling our very specialized knowledge, with moving around in this large, interdisciplinary area, requires me to work with lots of people who are experts in areas, where I will never hope to have more than a superficial knowledge. 
So, sustainability is a diffuse, diverse, and deeply uncomfortable space for those of us reared in traditional academic settings. It's also an inherently collaborative space in which ecologists like me must rely on colleagues like Stephen and Stepan to provide us with knowledge that is essential if we claim to be doing sustainability-themed or related research.
Chapter 4, of A Perilous Imbalance is called Good Citizens of Planet Earth? The Weakness of Global, Social and Environmental Governance. It's essential reading for my many biologist colleagues who sit at provincial, federal and international tables that are concerned with addressing and improving the environmental state of the world. 
Scientists are frustrated when the lessons and results which our research provides are ignored - or so we feel -  by policy makers, politicians and the broader public and society. In their book, Stephen and Stepan tell us why this is so, what globalization means for ecologists and, if read by my colleagues, should at the very least, reduce the amount of whining on this score that I am forced to listen to on a regular basis. For that, I am profoundly grateful - I can just send them the relevant pages from the book. But, it's better if they buy a copy."
PS Here's what the book's about, taken from the UBC Press website:
"As citizens of a middle power, Canadians know how it feels to be objects of global forces. But they are also agents of globalization who have helped build structures of transnational governance that have highly uneven impacts on prosperity, human security, and the environment, often for the worse. This timely book argues that these imbalances need to be recognized and corrected. 
A Perilous Imbalance situates Canada's experience of globalization in the context of three interlinked trends: the emergence of a global supraconstitution, the transformation of the nation-state, and the growth of governance beyond the nation-state. The authors advocate a revitalization of the Canadian state as a vehicle for pursuing human security, ecological integrity, and social emancipation, and for creating spaces in which progressive, alternative forms of law and governance can unfold. This book shines an urgent light on the dangerous imbalances in contemporary forms of globalized governance that jeopardize not only Canadians but also citizens worldwide."