There are a lot of things that could and should be fixed at York University, but a constant in my 23 years here, has been that the administration of the university has ALWAYS taken the safety and security of women on this campus VERY seriously. Since I was an undergraduate, I have been accustomed to working on campuses, in labs. for long, long hours, sometimes right through the night and on often on weekends. I am, therefore, hyper-aware and sensitive about security, and take the personal safety of my students and myself, on campus and elsewhere, very seriously.
For example, on New Year's Eve 1992, an engineering graduate student at Waterloo University was murdered in his lab. while working late at night on his thesis (Windsor Star 6th Jan 1993). At my request, the YorkU administration promptly installed extra, lockable fire doors at either end of the corridors in Lumbers Building, so that people working here, late at night, would have additional security. The reason why the height of the currant bushes at the back door of Lumbers was severely reduced about 20 years ago, was in the interests of security, to reduce cover for people hiding/lurking there in the dark. And, there have always been escort-to-parking lot programmes.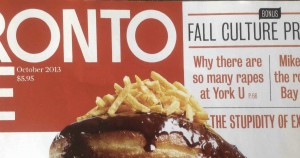 So, what to make of the Toronto Life Fortress York article, and the cover headline "Why there are so many rapes at York U", which prompted a letter from York's President Shoukri to EVERYONE? I did not read the article until a few days after an interesting exchange with Toronto Life Editorial Staff, in which I asked that the online version be unlocked from behind its Toronto Life paywall, so that it could be read by all members of the YorkU community, without their having to pay $6. The reason for this request, is that while Toronto Life magazine content can be accessed through the YorkU libraries, I found that when the October magazine hit the news-stands, in mid-September, it was not available through the university library. Therefore, it seemed reasonable to me, that the editorial staff of Toronto Life would want, in the interests of the "public good", to facilitate a broad, informed conversation that could include students, and members of the wider Jane-Finch community, described in the article as "one of the most notoriously crime-ridden neighbourhoods in Toronto". In her response to me, the editor, Sarah Fulford, proposed that I and others at YorkU buy the magazine. In my response, I pointed out that many members of the York community, who should be able to read this article in the magazine that many Torontonians regard as providing a reliable source of information about the city, may not have an extra $6 handy to shell out. Sorry - but you will have to wait for library access later in October (and that email exchange will be posted later).
According to Excalibur, York University's administration is considering proceeding with some kind of legal action against Toronto Life. However, I strongly believe that (1) as a long time supporter of the Jane-Finch community, (2) a feminist and female science prof., who works crazy hours just to keep afloat in my field, and (3) a mother of teenaged daughters who attend(ed) high school in Parkdale, which although not one of Toronto's Priority Neighbourhoods, has many low-income, vulnerable and at-risk residents, it's also MY duty to respond in some way - and, to do some serious, evidence-based de-bunking. Why is mention of Parkdale relevant here? Simply because, in the past, some friends and neighbours had expressed concerns about the advisability of  me encouraging my kids to attend Parkdale CI (the 2nd oldest high school in TO). My response to them: "it's a microcosm of Toronto, and the world, and they need to learn how to navigate it." Both daughters are proud Parkdalians.
In this blog, I raise 3 points pertaining to the accuracy of this article's content:
1. THE CRIME DATA: Last year, the CBC published an analysis of Toronto crime by neighbourhoods, for 2011. At that time, I  pointed out to various YorkU colleagues, that the neighbourhood crime data simply did not reflect the reputational drubbing that the Toronto media was giving YorkU. Simply put, the very large neighbourhood, known as University Heights, which includes YorkU, generally does not figure in the top 10 neighbourhoods for various kinds of crime, except for stolen vehicles. In contrast, the University neighbourhood, which is University of Toronto, is on 3 of the 8 lists, and the Church-Yonge Corridor, which includes Ryerson University, is on 2 of the 8 lists. Furthermore, the York University campus covers between 15-20% of the area of the University Heights neighbourhood, while the University of Toronto covers around 50% of its neighbourhood area (full disclosure: I eyeballed the maps, and did not carry out a proper GIS/mapping analysis). In light of these results, it might be useful for the young student mentioned in the article, who is living at Sherbourne and Bloor, to apprise herself of the data.
Additionally, my colleague, University Professor Brenda Spotton Visano, who, years ago was involved with developing micro-credit programmes with members of the Black Creek Capacity Building programme, suggested that a similar neighbourhood map showing where the perpetrators of white collar crime in Toronto live, might have quite different shading.
2. HISTORY OF YORK UNIVERSITY ENGAGEMENT WITH OFF-CAMPUS COMMUNITY: The article suggests that York University has only recently made any kind of effort to engage with the broader community beyond the borders of the campus e.g. "York recently established a community engagement task force...". This is patently untrue. Both individual faculty members and the university have been involved with the Jane-Finch community in numerous ways since I arrived at York in 1990. For example, In the early 1990s, local Westview high school students worked in YorkU labs, including mine, during summers, as part of a co-op programme. This programme subsequently evolved into the the York University/Seneca College/Westview Partnership. 
A few years ago, at City Councillor Peruzza's invitation, I participated on a local citizens' advisory committee discussing the Secondary Plan Update for York University. This planning update was led by the City of Toronto Planning Department and engaged many members of the broader community. I spent loads of evenings in meeting rooms at local public libraries and halls debating all kinds of urban issues with local residents. More recently, in summer 2012, the students in the Design for Sustainability Workshop course held its design charette on and at the San Romanoway high rise apartment buildings, located at the NE corner of Jane & Finch. The list goes on.
3. THE ENVIRONMENT DRIVES PEOPLE TO DESPERATE ACTS: "I spoke to dozens of female York students for this story" / "York they say is a hostile place" / "The school is bordered by forlorn industrial parks..."
Let's unpack this. How many is dozens? 24/36/48/60/72/84/96? If Katharine Laidlaw had spoken to over 100 female students, it's more likely that she might have written "I spoke to over 100 female students for this story..." Dear me, Ms. Laidlaw, if you spoke to 96 (8 dozen) female York students, then, if we make a back of the envelope calculation assuming that 50% of York's 55 k students are female, this is less than 0.35% of the female student population. In the annual campus community survey, IRIS (Institute for Research and Innovation in Sustainability) aims to obtain responses from over 1,000 students, staff and faculty. And based on this, we would still be very cautious about make wide-sweeping generalizations of the ilk "a campus becomes a hunting ground for predators".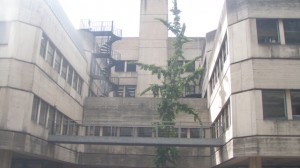 Let's go on to "York is a hostile place". Goodness me, what does that mean? Yes, the brutalist architecture is not as nice as my alma mater's of U of T and Oxford, though they also have some seriously ugly "brutalist" buildings, including Zoology, where I sat for 5 years, pining for a my own 15th century office in a dreaming spire (not) (above). The fact is, there have been serious institutional efforts, in place for the last twenty years, to improve the architectural "feel" and accessibility of the Keele campus and its buildings. For example, the Lassonde School of Engineering, formerly Computer Science, won all kinds of awards for its green building design before LEED was invented.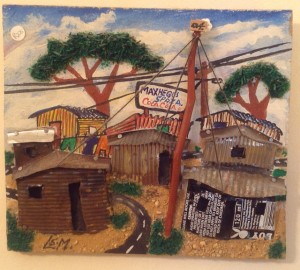 And, to all those of our students for whom Jane and Finch is apparently a "shock", this is not the only place in Canada where people struggle to overcome poverty. I am sorry to hear that some of our students apparently arrive here with such little exposure to issues of poverty, which is everywhere in the Global North, including in your own neighbourhoods. This is a Canadian issue, in southern cities, as well as more rural and northern First Nations and Inuit communities in Canada. And, people in poverty, both here, and in the Global South, from the favelas of Brazil, to the slums of India and the Cape Flats in South Africa manage to have vibrant and creative lives, despite their constrained circumstances. The collage above, hanging in my living room, a scene of the Cape Town Flats, constructed of found garbage, reminds me of this optimism, everyday. Why would I fear and be shocked about these places, and their residents, rather than connect with and learn about them and FROM them?
Finally, about those campus borders - to the north and east - those "seedy" strip malls, where, in the past, I often went to lunch, before York Lanes and the Student Centre were built. There are many decent, hard-working business owners in those malls, and I have chatted with quite a few of them. The fact is, that it took us a long time to drive on and off campus in the past. It's a large distance to walk during a lunch hour, so nowadays, people generally stay on campus to eat. And what about that Jane-Finch, to the SW? Whoaa, I have even attended events in a number of those buildings and emerged unscathed and I will certainly go there again. PLUS, tellingly, NO mention is made of the large Toronto and Region Conservation Authority HQ and Black Creek Pioneer Village complex on our west border - Ranked #27 of 285 attractions in Toronto by Tripadvisor. 
So, there you have it - my first cut at analysing what I see to be a major lack of a strong relationship between the evidence and the narrative and conclusions for why there are  "so many rapes at YorkU"  in the Toronto Life article.
Which leads me to ask, what's going on with all these very public YorkU haters? Is this some kind of a conspiracy, and if, so, why? Who amongst you failed your YorkU degree programme or got a bad GPA and didn't get that Fulbright/Commonwealth/Rhodes scholarship? What gives? 
Dawn Bazely, October 1st 2013