In the last couple of weeks, there has been a big flap going on amongst profs. about an article, "Who's Afraid of Peer Review", in the journal, Science, one of the top places to publish. Basically, the author, science journalist, John Bohannon (with a PhD in Molecular Biology) wrote a manuscript about a totally faked and fraudulent study, and he then submitted it to 304 Open Access journals, many of which (157) accepted it for publication. The press release for the article (see here) was, definitely, critical of the Open Access publishing movement, with, perhaps, the implied suggestion that OA is less reliable than the "paywall" protected journal community. Yikes! I am a big supporter of Open Access, which is why my website has links to YorkSpace, our Institutional Repository, aimed at legally mobilizing knowledge from behind paywalls. Needless to say, we are all well aware that the whole Open Access movement has opened a can of publishing worms.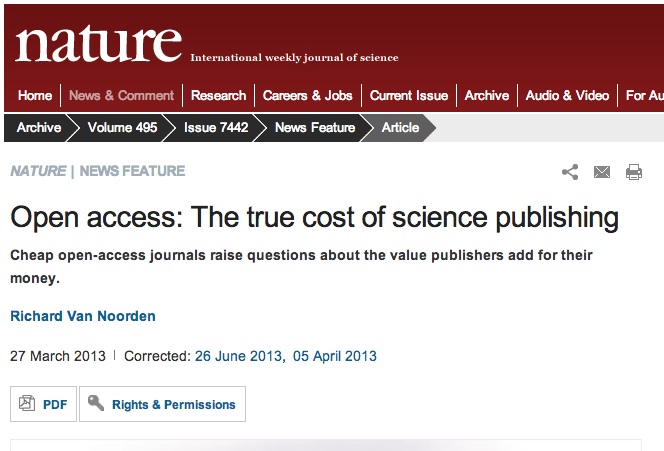 Peer-reviewed publishing is the cornerstone of academic and scholarship that supports the production of knowledge and data that are more objective and repeatable than information found in newspapers and your local coffee shop. A lot of my time is taken up with reviewing articles. I slave over these reviews for hours, carefully checking them, line by line. Accepting a paper to review in good faith, means allocating at least 8-10 hours to concentrated work, and often trying to navigate, unsuccessfully, at first, the online journal review interface! Doing due diligence in peer-review is a major part of one's duty to the academic community. It's a right pain, but it's part of the process.
Therefore, to learn that Open Access journals are, apparently, so prone to accepting and publishing fraudulent science is just terribly hurtful to those of us who struggle to participate in peer-review honestly, and basically, is saying that many of these journals are unethical, lazy, and just plain dishonest about how they are dealing with research. This is the professor's version of violating academic honesty policies. 
There have been lots of criticisms aimed at John Bohannon's paper and also at Science, for publishing a flawed piece of research. Many have pointed out that its experimental design has some fairly large gaps, such as a proper control group. Librarian, Barbara Fister, situates the issue within the larger publishing problem of "fake books". When the Twitter-stream was going loopy a couple of weeks ago, one Tweet described it as "gonzo" science - a term that I have never really understood, but take to mean "flying by the seat of one's pants" kind of stuff. However, it was, truth be told, always presented as "news" and not as "science", as pointed out by @BobOHara, in a very balanced blog at GrrrlScientist hosted by the Guardian.
So, how do we move on from here? Michael Eisen from UC Berkeley wrote an excellent blog (Oct 3 2013) responding to the Science piece, in which he provided positive proposals for how peer-reviewed should be fixed: I confess, I wrote the Arsenic DNA paper to expose flaws in peer-review at subscription based journals.
So, once again, I want to emphasize to students, that Academic Honesty is for everyone. And, to underscore this point, I am reposting a blog that I wrote a year ago, in response to the big flap about one of Canada's most well-known journalists, Margaret Wente in the Globe and Mail, having been discovered, and exposed, by Ottawa U. professor and artist, Carol Wainio, as having been a serial plagiarist. I wrote the  following blog (posted Oct 5 2012 - how time flies), and another blog about the "Wentegate" issue, that were posted at Dirk Matten and Andy Crane of York University's Schulich Business School's, website on Business Ethics and Corporate Social Responsibility (where you'll find a new blog about the 2nd edition of their book, Corporate social responsibility in a global context - a new free download).
REPOST OF MY BLOG  Looking for positive outcomes from plagiarism in the Margaret Wente affair (originally posted at Crane & Matten)
There was a lot of learning to be had from following the Margaret Wente story last week. Such as, I finally understood what constitutes an "ad hominem" attack. I also learned what a public editor does and got a much better understanding of the concept of cognitive dissonance. Plus, there were many reminders in the comments sections of various online columns and blogs about past Globe and Mail journalists, Rick Salutin and Jan Wong, whose writing I have enjoyed. At the Canadian Journalism Project's website, Loreena McKennitt, one of my favourite Canadian musicians, posted a thoughtful comment at the end of an article by Belinda Alner (The Globe and Mail disciplines columnist Margaret Wente, makes changes to senior management structure).
All in all, last week was important if you have ever written an assignment (e.g. essay or laboratory report), or have taught any form of writing or have read a newspapers or magazine. This covers pretty much most of the Canadian population!
Questions were raised by mainstream journalists, bloggers and hundreds of the readers of online stories, about whether Wente was guilty of plagiarism, and the behaviour of a number of Globe and Mail staff in responding to this allegation. These stories came out in publications that included Macleans, the Toronto Star, the National Post, and Toronto Life, and even the Guardian. Those asking questions included John Miller, a former dean of journalism at Ryerson, Elizabeth James with Vancouver's North Shore News and the blogger at the Sixth Estate who wrote about How media should handle a plagiarism scandal.
Why were the Globe and Mail's ethics and standards being called into question? In a nutshell, several columns by Globe and Mail columnist Margaret Wente had been scrutinized by an Ottawa artist and professor, Carol Wainio in her Media Culpa blog. Over several years, Media Culpa posted comparisons of older text by other authors to the text in some of Wente's columns. Wainio made several of these comparisons. Wente's columns made no attributions or reference to this other work, and strings of words were identical.
What made it possible for everyone to weigh in with an opinion, was that the Media Culpa's blogs provided similar comparisons if text to those produced by plagiarism software, Turnitin. In Turnitin output reports, side-by-side text comparisons are made. Every course director and teaching assistant must make a judgment about these Turnitin text reports, and decide what to tolerate in terms of the cutting and pasting of text. There will be a process for taking this up with the students whose work is identified in this way.
The response that unfolded to Media Culpa's posts, which Wainio had conveyed on several occasions to the Globe and Mail, was that various editors and columnists (including Wente herself) defended a position on plagiarism in which a certain amount cutting and pasting of text written by someone else is to be expected and accepted. Reasons for downplaying Wainio's text comparisons included the pressures of meeting deadlines. A number of well known writers in "old media", aka the mainstream press defended Wente. Some of them expressed the opinion that upholding the standards and principles of "academic" plagiarism, or the standards taught in university and high school, was just too difficult. The Wente apologists included Terence Corcoran and Dan Delmar at the National Post, Macleans. Back at the Globe and Mail, the editor, John Stackhouse and the public editor, Sylvia Stead provided very muted and restrained responses, only after torrents of internet chatter ensured that the story did not die down.
Is cutting and pasting so unavoidable, so that we are we all guilty of using other peoples' phrases and sentences?
Some members of the reading public seem to think so. Jack, commented at the crux of the matter blog (which seems to be offline as of November 2013):
"So she quoted without naming sources. I rarely do. Does that make me a plagiarist? "Sloppy journalism"? Disagree. If that were true we would all be guilty but we aren't are we?"
The title of Dan Delmar's column at the National Post was: Are we all "self-righteous" sinners cast(ing) the first stone at Margaret Wente?
To which the answer is a definite "no". Biology laboratory reports provide a good case study for evaluating just how prevalent cutting and pasting actually is. Hundreds of student do the same experiments every year, and write up their results. Up to to now, thousands of these reports have been run through plagiarism software such as Turnitin. This software checks for patterns in words, and compares one person's text against that from other sources: the internet, other student papers, journals, and whatever other text is available and accessible.
The Turnitin reports shows that it IS possible for thousands of students to write up the same experiment with relatively little overlap in sentence structure. The one exception is the methods section, in which students often quote directly from the laboratory manual, and it has been easy to put guidelines into place for quoting them.
Nevertheless, IS the Academic Integrity project in jeopardy?
Over the last decades people have apparently become less honest, and psych prof. Dr. Robert Feldman agrees, but says that there isn't actually much strong data. In a blog by Anne McNeilly at J-source, she explains how some young journalism students generally thought that cutting and pasting text with no attribution is not cheating. There may be a very real case for arguing that different kinds of writers should be held to different standards, but there is no doubt in my mind that if Margaret Wente had submitted the columns in which Wainio detected unattributed text as undergraduate assignments, that she would have been called in for a chat with the teaching assistant and course director. A USA gallup poll found that journalists aren't high on the publics' honesty list.
While the entire affair raised serious questions about the ethical behavior of powerful members of "old media", in general, I tend to agree with the Back of the Book blog, that there has been an upside to the Wente case.
Good pedagogy includes raising awareness about the rules of academic integrity and plagiarism. Academic integrity is not primarily about punishment but about learning how not to plagiarize, and give credit appropriately. Many of the frontline workers, such as grad student blogger, PhDerb, in the war on cut and paste have stepped forward during l'affaire Wente, to acknowledge the challenges, and the grey areas of confronting plagiarism. Other teachers, such as journalist and blogger David Climenhaga pointed out that it's pretty much obsolete to try and get away with plagiarism that includes cutting and pasting.
The reader responses have shown that these principles and ethical codes relating to Academic Integrity are taken very seriously by many outside of academia and the media. Being able to view the text comparisons directly, was no doubt a contributing factor to the outrage at the behavior of senior editors, and the picture that their actions paint of the corporate culture. Carol Wainio wrote several responses on her blog and in the mainstream media that were calm, measured and logical. This all served to reinforce the impression that a section of the media establishment has been making judgment calls that put them out of line with teachers, readers and members of the mainstream media, who are more apt to look at the evidence without blinking. Kathy English, the Toronto Star's public editor described the Wente case as a test of accountability.
One blogger at the Sixth Estate called for the development of ethics policies to call out mainstream journalists who lift unattributed text from blogs, in Link Boycott of Pro-Plagiarism Journalists (Other Bloggers Welcome to Join In). Jonathan Bailey at the Plagiarism Today blog initially did not see the Wente issue as being particularly important, though he argued that, regardless, Wente might benefit from a full investigation. As events unrolled during the week, his attitude shifted – as he explained on you tube.
Perhaps the most positive outcome is the broad discussion that the Wente story generated. A very cool example is the discussion thread about this on the Vancouver Canucks Hockey team forum. Thank goodness the fans have something to distract them.
This incident also gave many people cause for reflection and rememberance, such as David Climenhaga's raising the tragic case of Toronto Star journalist Ken Adachi, who committed suicide after being found plagiarizing.
For those readers coming late to this story, the timeline of the events has been nicely summarized by J-Source, Storify  and the Toronto Star.
Dawn R. Bazely