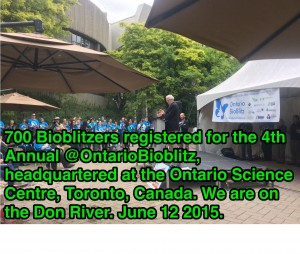 I took up field work for the 2nd time this season at the Ontario Bioblitz flagship event on the Don Watershed. The Ontario Science Centre was the HQ. I was joined by Vithuja Vijayakanthan, one of my remaining 2 graduate students from my IRIS director days. Her research, looks at the inherent tensions between the Bioblitz as a research vehicle, and as a means for doing Citizen Science & Science Communications. She's doing her Master's in the Interdisciplinary Studies Programme at York University.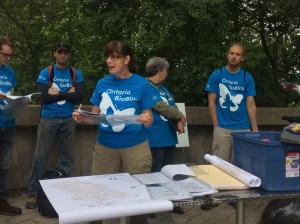 Deb Metsger (R), Assistant Curator of Botany at the Royal Ontario Museum ), organized the Plant Team. I was assigned to Tommy Thompson Park on the Leslie Street Spit, which had 3 teams. In the end, due to plant people being reassigned to other sites in the Don Watershed, I worked alone, identifying plant species, from Saturday 12 noon to Sunday 12 noon, for 24 hours (I slept Saturday night).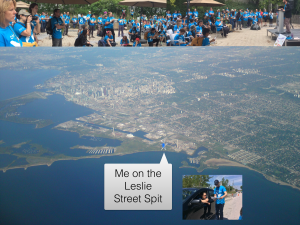 I left home at 08:00 Saturday morning and got home at 22:30 that night after an evening of plant ID at the Science Centre. I was back at Tommy Thompson Park at 7:45 Sunday, and from 12:00-16:00 pressed plants and confirmed identifications with other botanists. I stuck to sampling plants that I found within 50 m of the parking lot because I was a bit worried about my ability to do two days of field work. But, this circumscribed area was OK, because the point of a bioblitz is to capture the biodiversity at a site, as much as possible, to saturation point. I identified around 60 species, though I didn't count my records before I submitted them.
Darn right! 'Cos >250k flowering plant spp RT @davehireland: Botanists are always the last to leave 😉 #BioBlitz2015 pic.twitter.com/6OO2mLYDtE

— Dawn Bazely (@dawnbazely) June 14, 2015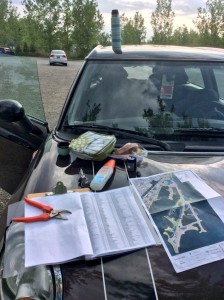 I hadn't been on the spit for over 20 years and it was lovely to be back. Of course, most of the plant species in this early successional habitat are non-indigenous, but they are photosynthesizing and that's a good thing.
I survived the Bioblitz, though spent most of yesterday resting, but that didn't only have to do with my injury rehab. The Bioblitz experience is exhilarating and also exhausting in its intensity. But, it was huge fun to work with colleagues, students and members of the public, all of whom have a passion for nature and urban ecology.