I fell behind with my blogs at the end of June, when my back pain flared up. I'd probably gone a bit overboard with driving and sitting/standing, and I spent Canada Day flat on my back, groaning.
I'm again doing well with moving around and having the energy to stand and work. so I'm dealing with my 2 missing July posts, by (1) updating the post about my back/hip injury, (2) by updating some website links and (3) with this post, which is a thank you card to @drmarcspooner of the Faculty of Education,University of Regina for organizing an inspiring and energizing conference on the topic of Public Engagement and the Politics of Evidence (July 23-25 2015).
I was truly impressed at how, having led on the organization, Marc kept in the background and provided speakers and delegates with a platform for the exchange of stimulating ideas and discussions across multifaceted, interdisciplinary topics, ranging from the impact of audit culture on scholarship, to bringing the findings of the Truth and Reconciliation Commission to as many Canadians as possible.
http://t.co/AYsBcAkjCH gives residential school victims a voice through art cc @Bearhead_C @trublwithnormal #PEPE2015 pic.twitter.com/VMVyhrkg4X

— Dawn Bazely (@dawnbazely) July 25, 2015
In my opinion, Marc's next course should be a MOOC aimed at faculty who have delusions of conference organizing ability. His course should be called "Best practices in conference organizing" or "How to organize and run a conference". Public Engagement & the Politics of Evidence was a text book example of a brilliantly smooth and well-organized conference.
Congratulations to @drmarcspooner on your Mad Conference Organising Skills & 👍🏽 T-shirts! #HigherEd #PEPE2015 #MMIW pic.twitter.com/1EnOT7ZYeN

— Dawn Bazely (@dawnbazely) July 24, 2015
Obviously, Marc was supported by lots of great staff. But I've done my fair share of conference organizing, and it was clear to me that he took the hard work of being lead organizer onto his shoulders. In other words, the buck stopped with him. Marc fund-raised for the conference. He arranged a welcoming book launch the evening before the conference began, and for Saskatoon's Turning the Tide Bookstore to bring a great selection of books to the conference. The books launched were Polster and Newson's A Penny For Your Thoughts, and Free Knowledge: Confronting the Commodification of Human Discovery, edited by Elliott and Hepting.
Congrats to @UofRPress on publishing your 1st #OA book: #FreeKnowledge! #PEPE2015 cc @akosavic @CraigCarys @mbeisen pic.twitter.com/o7pgVJfZ8v

— Dawn Bazely (@dawnbazely) July 23, 2015

Marc contacted amazing speakers and persuaded them to come to Regina. He not only had lots of female speakers in the plenary-style format, but many of them were indigenous women and women of colour. This was the kind of gender balanced, inclusive speaker line-up that I and my women in STEM colleagues dream about seeing on a regular basis. As well, speakers received original art from a Manitoban First Nations artist as a thank you gift, again, arranged by Marc.
#pepe2015 Amazing lineup of speakers! Follow livestream http://t.co/9YDAjYR38z pic.twitter.com/UiF2UvJuAT

— UR FacultyofEd News (@URFacofEd) July 25, 2015
The University of Regina venue was delightful, with affordable residence accommodation, as well as downtown hotel options. The transport to the campus from downtown was reliably on time, and the conference food was delicious and healthy.

Marc was always around to meet, greet, chat and trouble shoot. This is him with his young son, Thomas.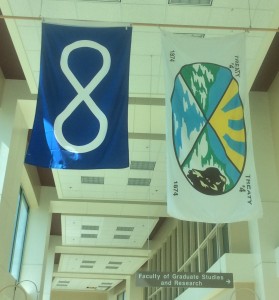 Best of all, this conference wove together Canada's First Nations heritage with great use of technology to make the conference widely accessible. It was amazing to have Life Speaker Noel Starblanket open the conference (the National Film Board documentary about him becoming the youngest Chief in Canada in 1971 is below. There is also a more recent documentary, Starblanket: a Spirit Journey). The conference opened and closed with drumming and singing, which can be heard in videos. Throughout, conference speakers acknowledged and reminded us that we were meeting on Treaty 4 and Treaty 6 Land.
Starblanket by Donald Brittain, National Film Board of Canada
I was able to watch the live-stream of the afternoon talks from my residence room, where I went to lie down after standing for the morning talks. This, was, quite, simply, the best of all worlds. Thank you, Marc.
If you missed it, the entire conference can be watched online, thanks to great tech support from Alec Couros and Evan Thornton, Marc's colleagues (I can't remember everyone else's names, so, my apologies).