I doubted that much could top discovering that my 2013 Skype chat about plant defences got me a movie credit in a science fiction feature film! But, you never can tell where science outreach and engagement will take you. Just a few weeks after hearing about my Botanical Consultant film credit, some of my other Public Science led to just as unexpected an outcome, that was, probably, quite a bit more important.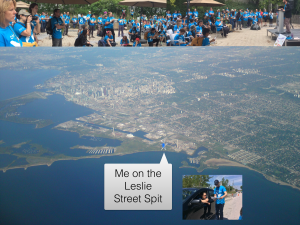 What is Public Science? Naturally, there's a Wikipedia page providing an explanation. For me, it's being a science professor willing to chat with non-specialists about science in general, and my research in particular. Non-specialists include everyone from citizen scientists (left, at the 2015 Ontario Bioblitz), to people with no particular interest in science, but who may be seeking and needing some kind of information from an expert.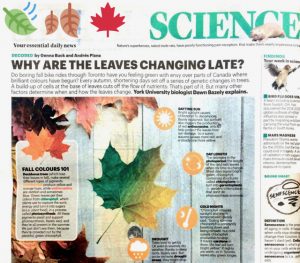 The most common ways by which scientists like me connect with non-specialists are public talks, and media interviews for tv, radio or newspapers. I rarely get cold-called in my lab. by a member of the public. But this is what happened in April 2017. A very persistent person, who wasn't a student, journalist, fellow scientist, friend or relative, called me several times, saying that they really needed to talk. I kept having to say "I'm really sorry, I'm about to go off and give a test or exam, or enter a meeting, but can I call you back?".
The caller, an Ontario resident, kept calling back, and eventually got hold of me at a moment when I had 30 minutes to listen and to think. Their questions were about an unknown insect that had invaded their house. There were lots of them -- as in, over a hundred, but no one they asked had been able to identify the insects. My caller was also worried about the advice from local pest control companies to use pesticide in their home. They weren't sure that this was a good thing, and wanted to talk to a scientist.
I was surprised that they had contacted me, since I'm not an entomologist. I asked why they decided to call me in particular, and was told that they had seen me on a BBC Nature television show called Infestation. "Really?" I said, feeling quite bewildered, "that sounds interesting."
I couldn't, for the life of me remembering speaking to producers of this TV programme, but eventually I recalled being interviewed in early 2013 about introduced, invasive forest pests like Emerald Ash Borer and Asian Long-Horned Beetle.
After a bit of digging around on the internet, I discovered that ZDF Enterprises had, indeed, included part of their interview with me in their  4 episode series about non-indigenous, invasive species. I was featured for a few minutes in episode 3: Forests Under Attack. I found part of my interview on YouTube, and was impressed by how terribly dramatic they had made me sound!
ZDF Enterprises is part of Germany's largest public broadcaster, ZDF. Their series, Infestation, had apparently been broadcast on a BBC Nature channel available to Ontario viewers. My caller had recognized the local, York University connection, and was able to track me down. For their sake, I was grateful that they managed to reach me.
I explained that the average pest control company staff member was unlikely to have advanced training as an entomologist. Furthermore, the work of insect identification beyond common bugs, is generally the work of taxonomists. Staff of pest control companies could be expected to identify insect pests like mosquitos, clothes moths, cockroaches, carpenter ants, wasps, termites, houseflies, silverfish, bedbugs, and things that aren't insects, like ticks, and spiders. But when it comes to less common species, I explained that it would be unlikely for them to be able to identify something that is not a well known pest. After all, it's estimated that there are about 55,000 species of insects in Canada, and about 11,000 species of mites and spiders!
I explained to my caller about what entomologists do, and gave them the contact numbers for the Royal Ontario Museum and the local Ontario Ministry of Natural Resources office. I explained that, while it was unlikely that the insect invader was either damaging their home or was a disease carrier, it would be good to get it identified, for the caller's peace of mind. I also explained, that with knowledge of the insect's species, and its life cycle, that alternatives to pesticides for controlling it would be easier to identify.
The caller was very grateful and apologized for taking up so much of my time. I reassured them that as a professor in a publicly-funded higher education institution, it was my privilege and duty to speak to tax-paying members of the Ontario public.
What I didn't say, is that my caller's eyes, and those of other Ontarians represent the front line in detecting, reporting and identifying newly arriving species that are moving north as the climate warms.
During the 2016 York University Hackfest, I worked with computer science students on an app that aims to help people like my caller identify these unknown species. My caller was, in fact, proof that our concept was a good one.