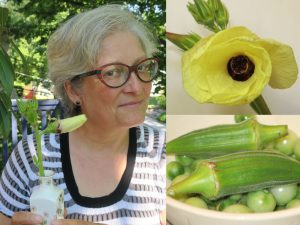 Two excellent Canadian documentaries, The End of Suburbia (2004) and Escape from Suburbia (2007), discuss the enormous implications of our unsustainable North American car culture, which has spawned sprawling suburbs and gridlock in southwestern Ontario, and the Greater Toronto Area.
These films include fascinating conversations with "futurists" about how people will convert their (sub)urban lawns into vegetable patches to grow local food, in response to the impacts of climate change.
I've been converting my Toronto lawn to vegetables and herbs for years. That's me, with an okra flower in 2016, when we grew okra for the first time. I discovered that fresh Ladies Fingers, or gumbo, are much tastier than anything that I had ever eaten from the supermarket.

During my doctoral and post-doctoral research into sheep grazing behaviour and temperate grassland ecology, at Oxford and Cambridge Universities, I learned about the long-standing European recognition of the ecological significance of cultural and agricultural landscapes. For example, there are hay meadow habitat restoration management regimes that reproduce the past agricultural practices favouring once common field weeds, such as cornflowers, and poppies.
Southern Ontario is the most settled part of Canada, with industrial, residential, and agricultural land-uses dominating the landscape. Up to the late 1990s, I observed a lot of resistance amongst my North American environmentalist, and conservation colleagues, to the idea that the residential component of such "settled" landscapes could provide a place for native species biodiversity, or even, local foods, outside of farms.
I'm glad to say that the prevailing North American resistance to a conservation role, and/or, a major role for local food production, in the region's widespread suburban, and urban landscapes, has slowly changed. My colleague, Professor Sapna Sharma invited me to give talk on gardening in the Royal Canadian Institute for Science Mississauga series. On Thursday April 6th 2017, I talked about the botanical framework informing our increasing interest in gardening for local food, and native biodiversity, in Ontario's highly fragmented, urbanized, industrialized, and farmed, Carolinian Ecozone.
About 60 people, including families with children, braved the pouring rain to get to Mississauga Library central branch, to hear about the Mixedwood Plains forest biome, and how European settlement has transformed the landscape, bringing with it loss of native biodiversity. I blended this plant ecology information with sustainability research, climate change science, and gardening advice. York University Biology Phd student, Alyssa Murdoch, wrote a wonderful blog, about my talk.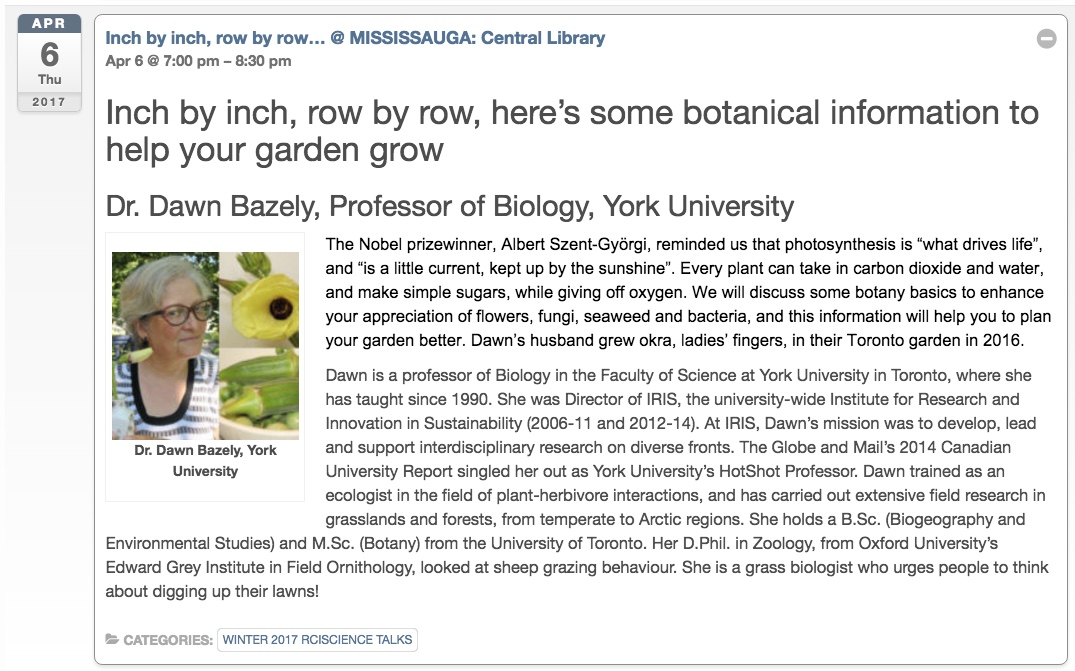 Carolinian Canada and World Wildlife Fund Canada's newly launched In The Zone programme supports gardening for diversity in all parts of Carolinian Canada's settled landscape. I encourage everyone to sign up their balcony or garden. The Instagram post below, includes several pictures of April 2017's Go Wild, Grow Wild Expo in London, Ontario, that you can scroll through, to get an idea of what was on offer.
The video of the talk will eventually be posted on the RCI website.
In the meantime, here are the slides: