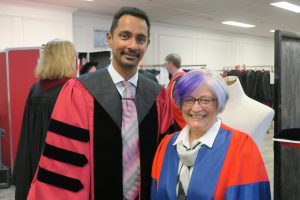 At last week's York University convocation for the Faculty of Science and Lassonde Engineering School, I was made University Professor. That's me with the Dean of Science, Dr. Ray Jawawardhana.
But, I'm already a university professor, so what does this mean?
University Professor is an honorific title that exists at many North American universities, including University of Toronto and Waterloo University. At York University, there are both University Professors and Distinguished Research Professors.
"The University Professorship is awarded to a member of the faculty whom the University recognizes for his or her scholarship, teaching and particularly participation in University life or contribution to the University as a community."
I was truly delighted to have been nominated for this accolade by fellow professors from six faculties across York University: Science, Education, LAPS, Osgoode Hall Law School, Environmental Studies and the Libraries. My colleagues and students motivate me to keep working hard.
My family, colleagues, former and current students all celebrated with me, and I was interviewed about how I felt about being made a University Professor (below). I discovered that there is a maximum of only 25 faculty honoured with the University Professor title at any one time, and that most have been men.
Backstage with @dawnbazely who will receive the title of University Professor at this morning's #YorkUConvo "I am living my academic dream!" pic.twitter.com/nyhsGaaHsJ

— York University News (@YorkUnews) June 22, 2017
#YorkUConvo @YorkUScience Prof. @dawnbazely reflects on her academic journey: "I was the first member of my family to go to university" pic.twitter.com/iHT9Gy6OHg

— York University News (@YorkUnews) June 22, 2017