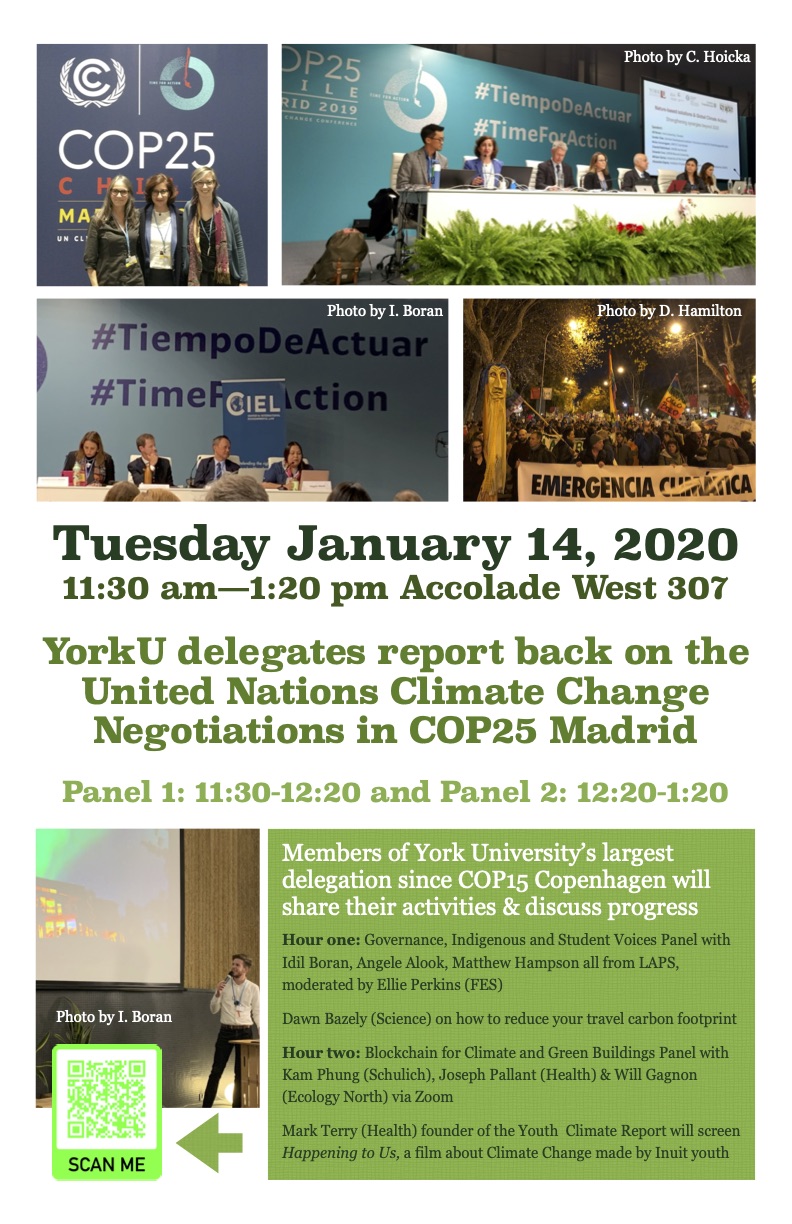 Members of the York University delegation to COP25 on Madrid will be reporting back to the community on January 14th, 2020 (details left).
I've been teaching undergraduate and graduate students about the greenhouse effect, global warming and climate change since 1992, when I taught my first applied plant ecology course at York University. I couldn't really avoid the topic, because my MSc supervisor, Prof. Bob Jefferies was interested in global warming when I was an undergraduate in his lab. in 1980. Bob was one of the IPCC authors when the IPCC received the Nobel Peace Prize.
At this point in time, I've witnessed thirty years of two steps forward and one step back on the political front with respect to action on reducing greenhouse gas emissions. And.. the predictions in the early IPCC reports are now happening.
In contrast to many scientists, I've always been a political junkie, so it's now fifteen years since I started actively collaborating with colleagues in Political Science, including Professor Gunhild Hoogensen. I do wish that more of my STEM colleagues had done this kind of interdisciplinary work. It would have better prepared them to respond to the ideological and politically-motivated attacks on climate science of the last ten to fifteen years, that are so clearly elucidated in The Merchants of Doubt by Naomi Oreskes and Erik Conway.
It's ten years since Annette Dubreuil and I applied for observer status for York University at the annual Conference of the Parties of the United Nations Framework Convention on Climate Change. I'm delighted to (finally) see a significantly increased interest among members of the York University community in participating.
These days, when people ask me about how I respond to questions about climate change, especially from deniers, I point them to various resources, including the 2009 film, The Age of Stupid. Here are the slides from a panel on Climate Change that I participated in on two Adventure Canada trips in 2019.