My secret vice is reading Clive Cussler adventure paperbacks. I enjoy the way that they weave science, travel, and history together with ludicrous James Bond style heroes and villains.
I recently came across the statistic in a Cussler novel, which is very probably rooted in research, that only about 10% of the information in the world's libraries has been digitized, and accessible on the internet. When I checked into the 10% statistic, I found an excellent post on the topic by Phillip Remaker.
As an academic, I'm well aware that only a small part of humanity's collective knowledge is discoverable through a google search. As a professor, I'm at the forefront of the battle to train students to dig deep and find obscure (undigitised), yet important hard copies of books and journals residing in the bowels of libraries.
Making reliable knowledge available online, for free, is essential to making information more broadly accessible. I've worked hard to contribute to the open access virtual knowledge ecosystem. In 2000, I was one of the first York University professors to post my lectures on an open website. Like many of my students, I'm often frustrated by the difficult to navigate websites of many York University offices, faculties and departments. So, I learned WordPress while I was director of IRIS, and I can now create my own websites. More recently, I learned to edit Wikipedia pages for our Ada Lovelace Day Editathons.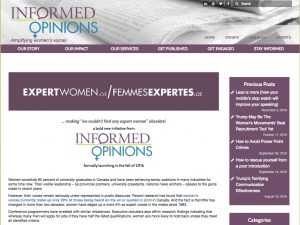 As a woman in STEM, I'm also well aware of the extent to which women are under-represented, and worse, harassed, abused, targeted and trolled on the internet, especially on social media, and in real-life forums. As an early user of the internet (I sent my first emails in the late 1980s) I've bought into the principle, that technology, and the world wide web is a force for good, and for education. For me, the internet simply magnifies and concentrates society's good and bad elements. I also believe that social media reflects much about people's true personalities, as well as the banality of evil (Hannah Arendt).
To do my part for increasing women's voices on the web, I recently participated in Informed Opinions' newly launched Expert Women database.

Meredith Dault, who was connected to me, back in July, by another York University Fine Arts graduate, Sharlene Rankin, said "it won't take very long for you to fill in your profile".
Thanks for the vote of confidence! Pleased to report that @ExpertWomenCA is now in its active recruiting phase: https://t.co/u5QhoCJz0A https://t.co/1IfO9PkvMm

— Meredith Dault (@MeredithDault) November 4, 2016

A cumulative total of eight hours and several days of emails with Meredith and her colleagues, later, after interfacing with slow-to-respond online forms and glitchy logins, I kinda understood why many women had been somewhat reluctant to build their profile by themselves.
But, any kind of web-based activity, from writing this blog post to updating my course Moodle sites is boring, tedious and time-consuming. What was, in fact, most difficult for someone like me, who has a 56-page cv, is that I'm an expert in diverse areas. I spent a lot more time deciding what to include on one web page about me, that might be of use to the media seeking an expert commentary, than typing in the information to my profile.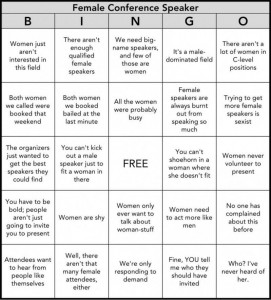 My main advice to other women considering contributing their profile to the Expert Women database is, "please, just do it!" but give careful consideration to what area(s) of your expertise you want to highlight.
Why not ask your friends and colleagues what they think about how to present your expertise? And, leverage your existing online presence. If you haven't updated your LinkedIn profile for a while, then head there now. Plus, create your verified Google Scholar profile. Or make that WordPress blog, or get on social media. Here, I mean Twitter, which is public.
Yes, creating my Expert Woman Profile was a bit of a time-consuming exercise because it took me longer than I expected. But in my opinion, it was definitely worth it. Not least because a direct result of this database, aimed at getting more women's voices out there, is to removed excuses on the female speaker Bingo Lottery card:
"There aren't enough qualified female speakers".
"Both women we called were booked that weekend".
P.S. I realized in writing this post that I need to update my profile! But what else is new? My electronic footprint is always out of date. C'est la vie.