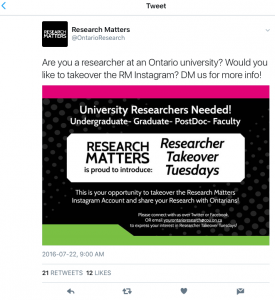 The clip of sea butterflies, below is from Anne Todgham's Go Pro. It didn't make it onto my Research Matters Instagram #ResearcherTakeoverTuesday in September.
Anne, who is a Biology prof. in animal physiology at UC Davis, was an expedition cruise passenger on my Arctic Safari trip with Adventure Canada.
Here's the text I wrote to accompany this clip:
The arctic oceans are full of tiny animals, like these small swimming sea snails, known as sea butterflies, that provide food for fish, and breeding sea birds. @UCDavis Biology professor, Anne Todgham, captured this sea butterfly in the #iceberg laden waters near Store Glacier, Greenland with her waterproof Go Pro camera.
#arctic #SeaButterfly #iceberg #StoreGlacier #Greenland #GoPro. #Glacier #SeaButterfly #pterapod #pterapoda #FoodWeb @Adventure.Canada
---
Using Social Media for Science Communication means Making Choices
I'm a huge fan of Twitter for scientists. But, my daughters, both STEM undergraduates, don't use either it, or email, very much. They prefer Facebook (😟 ), Snapchat (😱 ) and Instagram (🙄 ).
In order to be more relatable to them, and youth in general 😬, I joined Instagram in 2015. Every now and then, I post pictures of plants (dead and alive), sciencey stuff, the York University campus and students.
It very quickly became clear to me, that Instagram communication skills are quite different from Twitter skills. Following Lisa, who runs Steacie Science and Engineering Library's Instagram feed, helped me to see what good academic Instagram posts look like. I have mastered Twitter, but I had a lot of difficulty wrapping my head around the Instagram post.
Now, I am not an enthusiastic photographer. Professional photographers undertake the important work of taking amazing photographs, and I support them by buying their art. I prefer words with the odd illustration. But, I recently got more excited about using social media photographs for science communication when I spotted this July tweet from the Council of Ontario Universities' Research Matters staff, @OntarioResearch.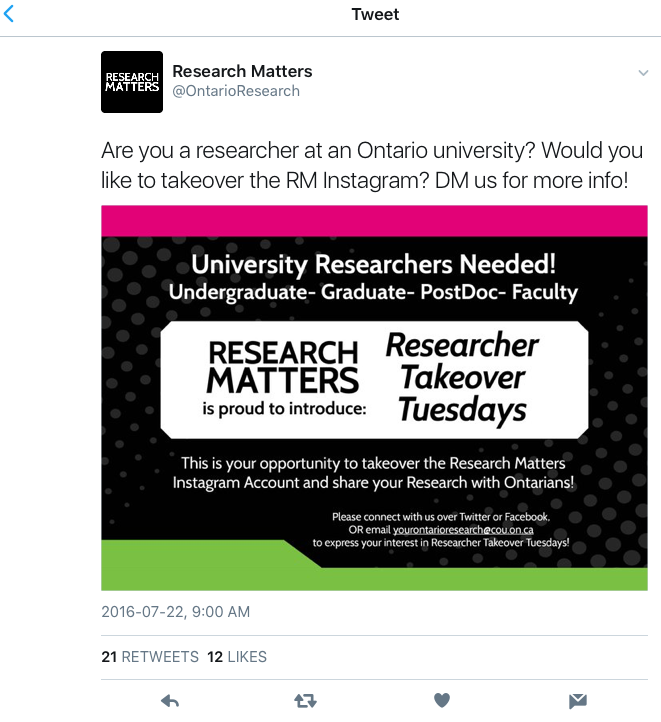 "Hey!" I thought. "I do interesting (to me) research, and could probably contribute some weird photos with some engaging text". Followed by the next thought: "Maybe I could learn how to do Instagram for science better? It might help me in teaching and communicating ecology."
After I signed up for the #ResearcherTakeoverTuesday or #TakeoverTuesday, I had a lightbulb moment. I was aware that my proffered photos of fungal endophytes in grasses weren't that great, BUT I would be getting some spectacular photos from my upcoming August trip, as a resident botanist on two Adventure Canada expedition cruises to the high arctic. The Research Matters staff kindly agreed to the idea of me posting arctic photos rather than my grass and fungus photos, and after some homework, I decided to invest in a very good, small, camera: the Canon G9X. I knew that photos taken with my very old Sony Erickson phone and my iPad just wouldn't be that great.
In the arctic, I had another 💡 moment: sure, I had some great photos of icebergs, but the Adventure Canada staff included professional photographers. Plus, many of the passengers also had amazing camera gear. So I asked some of them for permission to post some of their photos on the Research Matters Instagram account! THANK YOU. After that, my main task was to create accompanying text for the awesome images!
---
Instagram caption writing is similar to creating figure legends for Biology textbooks
Creating tightly-written, fact-checked descriptions and context for my fellow travellers' great photographs was pretty tough, and I found that it took a fair amount of time. And, then there were all those hashtags! Twitter does best with 1-2 on-point hashtags, but Instagram loves a heap of hashtags.
All in all, I found that creating good Instagram text was most similar to writing figure legends for text books. The last time I did this was when when I joined the author team for the 2nd edition of an Ecology textbook. I have never enjoyed writing figure legends, and I think this is why I find writing text for Instagram posts so difficult.
I hope you will check out my #ResearcherTakeoverTuesday posts on Instagram below, and tweet me your thoughts on Instagram as a science communications platform.
---
P.S. What on earth is a cruise ship doing with a resident botanist?
The story of how and why I came to be resident botanist for Adventure Canada's expedition cruise  family business is the topic for a future post. I was able to get to remote locations and check out the plant communities for future vegetation sampling, and to develop some citizen science project ideas.
You can read a bit about why some ecotourism cruises have scientists on board, in my post about Adventure Canada CEO, Cedar Swan, at Nature Canada's Women for Nature website.