I'll be posting 12 blogs between December 1st and 24th to reach my goal of 24 posts for 2017. I'm behind because my sabbatical has kept me too busy to maintain my blogging schedule!
Back in 2009, when I was director of the Institute for Research and Innovation in Sustainability (IRIS), I applied for York University to have observer status as a non-governmental organization at the United Nations Framework Convention on Climate Change. Annette Dubreuil and I compiled a massive binder of documents, that, fortunately, met the criteria for admission as an observer. In December 2009, IRIS sent a large delegation of students, faculty and staff to Copenhagen, to attend COP15, the 15th meeting or conference of the parties to the climate change convention.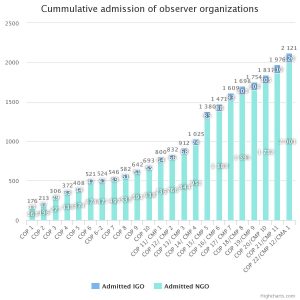 That same year, many other non-governmental organizations applied for observer status, and the participation of civil society at the Conference of the Parties or COP increased dramatically (Right: UNFCCC data).
Anders Sandberg, professor in the Faculty of Environmental Studies, edited a book with his son, Tor, called Climate Change -- Who's Carrying the Burden, which was partly inspired by his experiences in the streets of Copenhagen. The work of Danish sculptor, Jens Galschiøt featured on the cover and throughout the book (below).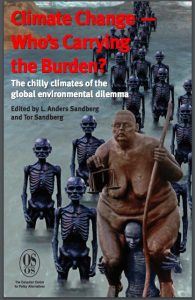 Every year since 2009, as York University's UNFCCC focal point, I have applied for spots so that researchers interested in studying the UN climate change negotiations can attend the annual Conference of the Parties (COPs) and other events. After 8 years of interacting with the UNFCCC from a distance, accrediting and supporting delegates, I finally made it in person, to COP23, in Bonn, Germany.
My fellow delegates were Philosophy professor, Idil Boran, attending her 6th COP, and Biology professor, Sapna Sharma, like me, a COP newbie. You can read about what we learned, in our article for The Conversation Canada: How citizens are fighting climate change on the global stage.
At the COP, we ran into YorkU alum, Joanna Patouris (at right, left in the middle), who was part of the Swaziland delegation. In the photo below, Sapna can be seen in the off-site USA Climate Action Domes, where we heard Al Gore, and other members from the US civil society coalition, #WeAreStillIn: America's Pledge, speak.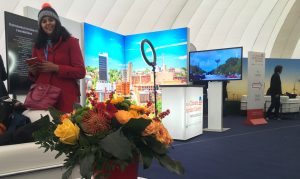 Although, as a UNFCCC-affiliated bureaucrat, I had a good idea of what to expect at COP23, its sheer scale, intensity and complexity were awe-inspiring. Over 19,000 delegates in the different constituencies, from parties, to intergovernmental organizations, to non-governmental organizations, had registered by early November. While in Bonn, I heard that the final conference attendance, once late additions to country/party delegations were included, would likely be in the region of 22,000. Some country delegations were small while other approached 500.
Fiji held the presidency of COP23, which Germany hosted on their behalf. The UNFCCC is headquartered in Bonn, and the story of how it was nearly based in Toronto, is told in the Richard Kinley Gallery Exhibit, which I visited.
I was at COP23 for 10 days, and my goal was to have the full COP experience, which included taking in the many art installations occupying the park along the River Rhine, between the sprawling conference buildings and tents. While cycling through the park, I recognized the style of the most striking installation: #unBEARable, the polar bear impaled on the oil pipeline that curved upwards, tracing the graph of carbon dioxide emissions. Next to the bear, stood a smoke-puffing Statue of Liberty, titled Freedom to Pollute. Nearby were climate change refugees. The artist was none other than Jens Galschiøt.
While I have always understood the immense privilege that I obtained for York University, of being able to nominate and send delegations of researchers to the UNFCCC meetings, I found that attending COP23, in person, made me appreciate this even more. I'm currently in conversation with colleagues at other universities that also have observer status to find ways of increasing the benefits to our local, higher education communities AND also to the other constituencies present at the UNFCCC meetings -- from countries (parties) to other non-governmental organizations.